Bicycle Facilities in Brussels
Our capital has put a lot of effort into its cycling infrastructure in recent years, with bicycles gaining ground on 'King Car'. Large parts of the city centre are either car-free or pedestrianised. But be warned: Brussels is built on seven hills and it just so happens that Campus Brussels is located on Warmoesberg. After a few years at university, you will undoubtedly be in good shape as well as acquiring a diploma.
Use our bicycle park
If you come to campus by bike, you can park it in the underground bike park under the T'Serclaes building (entrance via Radisson hotel on Wolvengracht). Just ring the bell at 'Parking Odisee/KU Leuven Campus Brussels' and tell them you are a student.
No transport worries with Villo!
If you don't have your own bike in Brussels or can't get to it, you can use Villo! where you can hire a bike at one of the 180 bike stations across the city. Villo! has a total of 2,500 bikes, so there's always a bike to hand.
With a Villo bike you can get around Brussels seven days a week, 24 hours a day, to go to class, to the shops or to visit friends. The Villo! stations are located 450 metres from each other, making it easy to get around. The handy Villo! app helps you to find the nearest station with available bikes at moment's notice. If you don't have a smartphone, you can find out exactly where the bike stations are on the Villo! website.
Villo! annual subscription with student discount
A one-year subscription to Villo! costs € 32.60 but with Brik you can get a 50% discount for the first year. Ask for your unique discount code on Brik's website and use it when you order your subscription to Villo!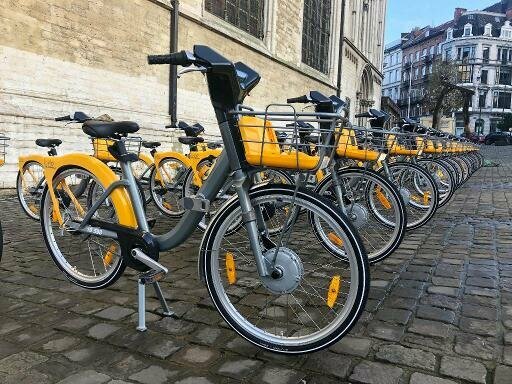 If you think biking is a good idea, you still need to think about this:
Cycling makes you happy. It promotes mental well-being by releasing endorphins and increasing serotonin levels. It's also good for your fitness levels and good for the environment. But sometimes things go wrong with your steel steed... We'd like to give you a few more useful tips.
Useful links