Bicycle facilities in Sint-Niklaas
Campus Sint-Niklaas is easily accessible by bike, whether you are cycling from home or parking your bike at the station.
Rent a bike
On Sint-Niklaas campus, you can rent a bike for a student-friendly price. Consult here an example of the bicycle contract.
At STUVO+ you can rent a bike for €30 per semester or €50 for an entire academic year (deposit is €100). You receive free 25-time admission to the secure bicycle park at the station so that you can leave the rented bike securely in De Fietspunt during holidays or if you are not at school for longer periods. Every summer, the bikes are given a full service, so that they can be used again by students at the beginning of the academic year. Reserve a spot for your bike in good time on els.vaneetvelt@odisee.be.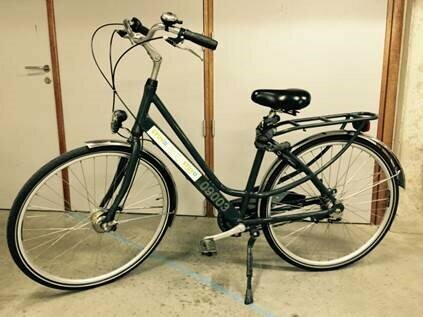 Buy a bike
You can buy a bike from the bicycle repair point at the station.
Rent a scooter
In Sint-Niklaas, you can use a scooter share. On the mobile Bird app, unlock a scooter for €1 activation per trip + €0.15 per minute of use. Please leave the step at the drop-off place marked in blue at the entrance of AZ Nikolaas, behind the station or opposite the Odisee bicycle park.
Repair your bike (yourself)
Technical problem?
You can repair your bike yourself in our underground bicycle park. Hang it up at eye level on the bike repair pole which has basic tools. This way, you can easily access all parts of your bike.
At De Fietspunt at the station, there is a vending machine with bicycle lights, rain clothing, fluorescent vests, bells, inner tubes, etc.
If you are unable to repair it yourself, you can go to the bicycle repair point De Versnelling at the station. Opening hours: all weekdays from 7.00 to 19.00. The repair service is a service to help stranded bikers so they can get home by bike safely. These are mainly minor repairs, such as mending a puncture, repairing a light or chain... For major repairs, employees at De Fietspunt will refer you to the traditional bicycle repair shop
Contact els.vaneetvelt@odisee.be voor meer details.
If you think cycling is a good idea, you should certainly consider this:
Cycling makes you happy. It promotes mental well-being by releasing endorphins and increasing serotonin levels. It is also good for your fitness levels and good for the environment.
Useful links